From 15th to 19th September 2022, nine Partners from European – Italy, United Kingdom, Czech Republic, and Lithuania – and Asian countries – China and Vietnam – met in a hybrid format for the closing meeting of JEUL – Joint Enterprise University Learning – a project co-funded by the Erasmus+ Programme of the European Commission, Key Action 2, Capacity Building in the field of Higher Education. Dr. Hoang Hai Yen – Dean School of Banking and Duong Tan Khoa- Vice Dean School of Banking represented UEH to attend the meeting. At the meeting, Dr. Hoang Hai Yen gave a speech on the impact of JEUL project on UEH.
JEUL aimed at establishing and developing lasting cooperation among HEI and private sector, to influence the way universities work and enable them to learn from the entrepreneurial nature of companies.
During the closing meeting, Partners resumed the main results and activities of the project, discussing on the final actions to be completed. Dissemination results were showcased as well as the general level of satisfaction from the partners concerning the implementation of the project and the organization of Transnational meetings. In particular, the Partners were focused on how further exploit JEUL results even after the project completion.
UEH has participated in the project as a partner and UEH's School of Banking is the recipient of funding from the project. The activities of the project have had a positive impact on UEH, specifically as follows:
1. Establish a partnership between universities and businesses – Establish Links with Industry was one of the activities of the project. UEH, especially the Banking School has developed cooperative activities with businesses, banks, securities companies, investment funds, and other financial institutions in exchange of experience in research and application of technology; creating Internship opportunities for students, inviting businessmen as being a visiting teacher and guest speaker, talk-show for students' club, granting scholarships for students. Especially, there were some banks and companies had corporate with the lectures to write case studies (KienLong Bank, Techcombank, Hoang An joint stock company). Thanks to Jeul project, UEH' lecturers had trained in how to write a case study, how to collect data for writing the case study, improving capacity to write the case study, and using these case studies in teaching. UEH has contributed 7 case studies to the project among 24 case studies totally.
2. In order to Identify Skills and knowledge shortages and embed the required skills in the curricula, UEH had surveyed 200 enterprises and received feedback on 1204 student internship positions, thereby upgrading courses, updating and improve curricula accordingly, such as adding courses of fin-tech, digital banking, soft skills, entrepreneurship and adding more knowledge and skills to syllabi to adapt with the labor market. With a sponsor of Jeul Erasmus Plus UEH to built a simulation centre for teaching with hardware and core-banking software. The software "core banking" was hired for 20 years for training. School of Banking has used the Simulation centre to teach the "core banking" course, Stock market simulation game. In three years, 300 learners and 15 faculty members were training here.
3. Within the framework of the project, UEH's lecturers were trained to develop teaching material for 2 undergraduate modules on the Enterprise Pathway, which were "Finance for non-specialized in Finance" and "Finance for financial specialized" and also introduced a suitable Virtual Learning Environment (VLE).
4. At the end of the project, the partner universities had bilateral meetings to discuss further cooperation. Vietnamese and Chinese universities will have an opportunity to continue cooperation within the framework of Erasmus plus 2021-2017.
For more information about JEUL and the University of Economics Ho Chi Minh City initiatives:
Some pictures of the meeting: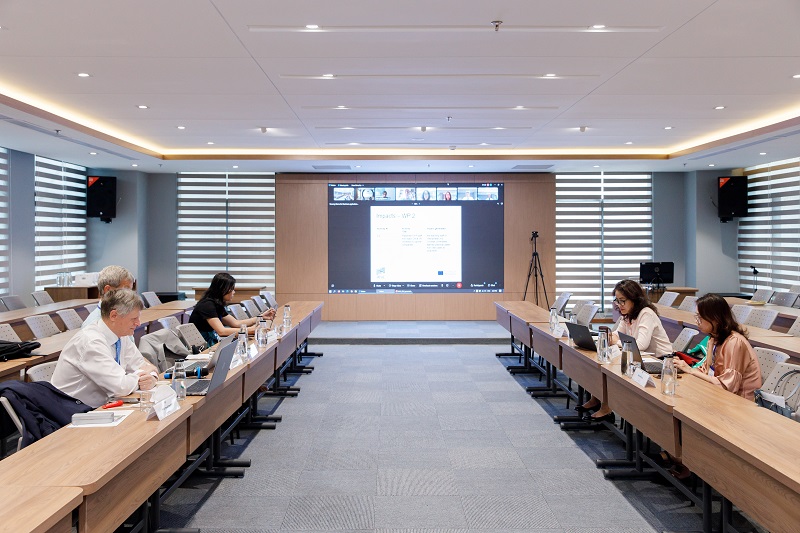 The Final Project Meeting in a hybrid format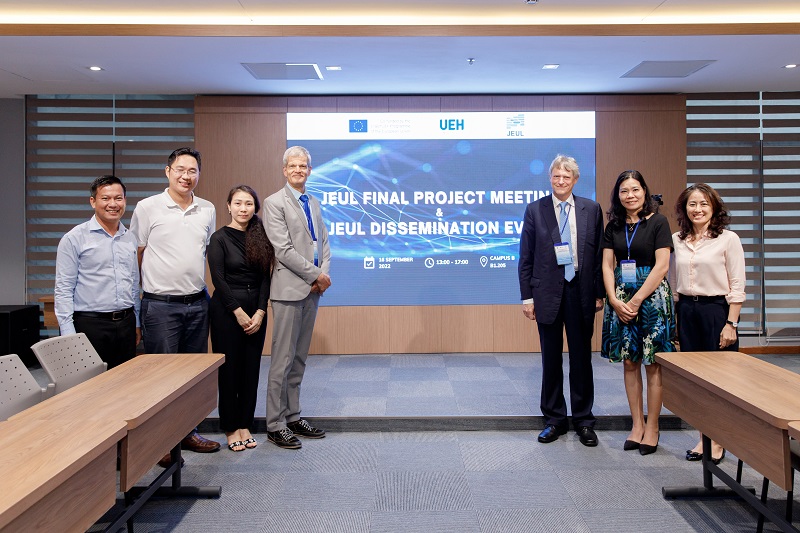 Skoda Auto University, Banking University HCM, and University of Economics HCMC attended Jeul Final Project Meeting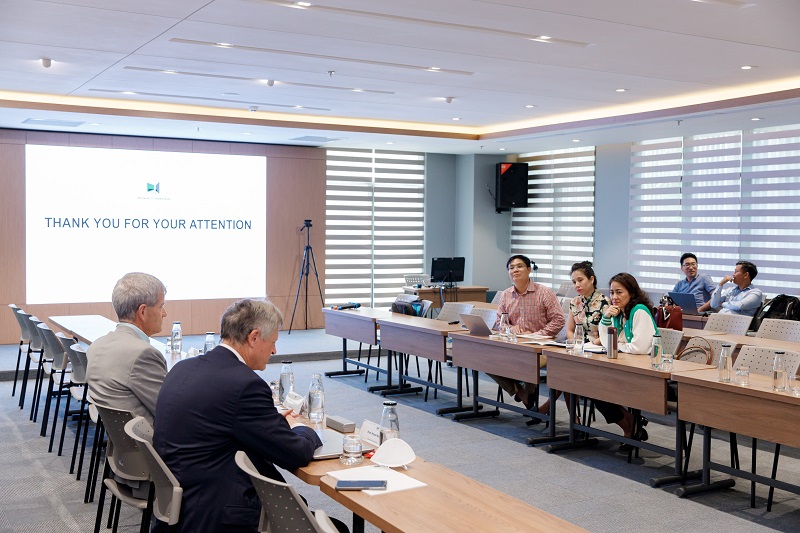 Dr. Nguyen Phong Nguyen (Head of UEH Department of Research Management – International Cooperation), Dr. Trinh Tu Anh (Dean of UEH Institute of Smart City and Management), Dr. Hoang Hai Yen (Dean of UEH School of Banking) and Prof. Pavel  Mertlík (Vice Rector ) and Dr. Jan Lachman (Vice Rector, Skoda Auto university) had a bilateral meeting to discuss further cooperation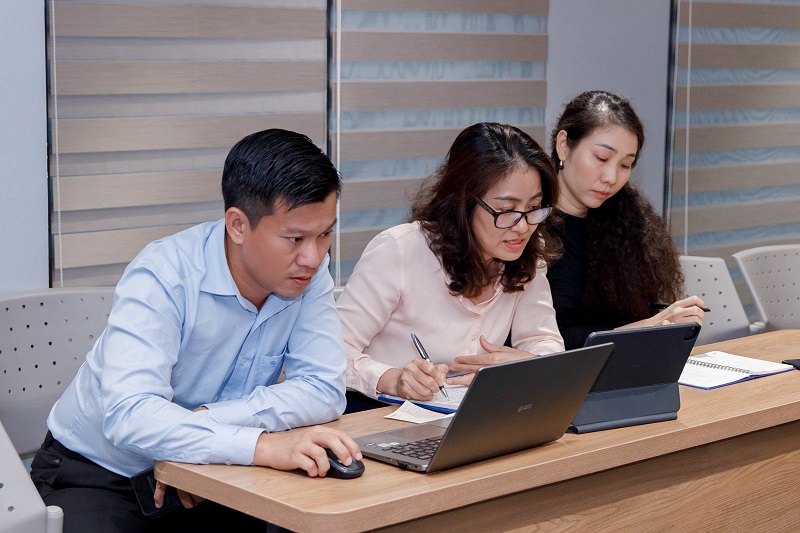 UEH's School of Banking and Sienna university (Italy) had a bilateral meeting in online format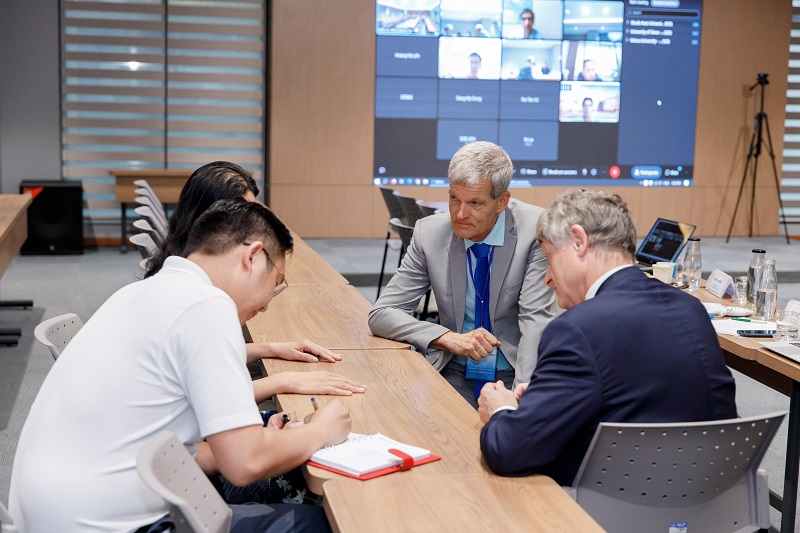 Skoda Auto University and Banking University HCMC had a bilateral meeting.
                                                                               New, photos: UEH School of Banking